When faced with a terminal illness, how do you pray for healing.
By Christy Grambell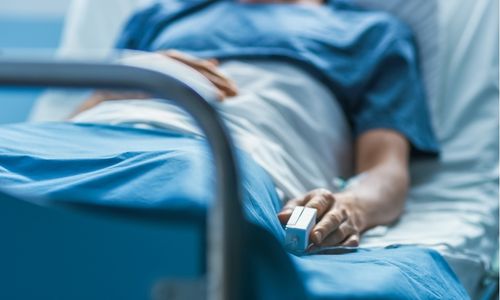 With the season of colds and viruses upon us, chances are you or someone you know has been sick recently. But if you're like me, you may not have prayed diligently that God would heal. We generally feel like we know how the typical winter sicknesses progress, and although we might quickly pray for recovery, we expect them to pass regardless.
However, we tend to think differently about prayer in the face of terminal or chronic illness. Our initial response may be to desperately seek the Lord's intervention, but as we come to terms with the diagnosis, questions about how to pray for healing—or whether to pray for it at all—become more complicated. If God is sovereign, and he has allowed this illness, am I submitting to his will if I desire and ask for healing? If I ask for healing and it doesn't come, at some point does my asking become discontent? Am I required to pray for healing? And what should I expect if I do?
My family currently faces a terminal cancer diagnosis for my mom, so these aren't purely theoretical questions for me. As I've wrestled through them, I've found it helpful to start by outlining what I can be sure the Bible says about suffering and prayer and what I can be sure it doesn't say. This builds a foundation for asking more nuanced and personal questions about our own specific situations.
God and Our Suffering
What can we be sure of about God in the face of chronic and terminal illnesses? Nothing happens outside of his control (Ps. 115:3; Job 42:2). Suffering and illness aren't necessarily or even primarily a sign of his displeasure, even though he does use them (John 9:3). He has specific purposes for what he does in and through suffering (Job 1–2), and he'll use all suffering and difficulty for redemptive ends (Rom. 8:28–39).
Suffering and disease are a result of the fall and not part of God's good and perfect creation (Gen. 3:16–19). God deeply cares about our suffering (John 11:35; Mark 1:41). When Christ returns and sets all things right, sickness and suffering will be no more (Rev. 21:4). But even before that day, God delights in giving his children good gifts and hears their prayers (James 1:17; Matt. 7:7–11).
What We're Told to Do
We can also be sure of what we've been told to do. In a similar fashion to Paul's directives to pray in all circumstances (1 Thess. 5:16–18; Eph. 6:18; Phil. 4:4–7), James encourages prayer in times of trouble and happiness but also specifically for healing from sickness (James 5:13–14). Without any qualifications, James instructs his readers to have their elders "pray over [them], anointing [them] with oil in the name of the Lord" (v. 14). He not only invites but actually directs his readers to pray for healing when sick.
But what we perhaps overlook is the attitude with which we're told, particularly in the teaching of Jesus, to pray. In Luke 18, Jesus tells a parable about prayer in which an unjust judge is "bothered" enough by a persistent widow that he finally gives her justice (vv. 1–8). The parable is introduced with these words: "He told [his disciples] a parable to the effect that they ought always to pray and not lose heart" (v. 1).
Similarly, in his teaching on prayer in Luke 11:8, Jesus speaks of the one who asks with "impudence" or "shameless audacity" (NIV). In both instances, Jesus seems to be inviting an attitude of fervency, shamelessness, and persistence, as though he's saying, "Please, bother me!"
Jesus seems to be inviting an attitude of fervency, shamelessness, and persistence.
And finally, we're told to have faith. Scripture is clear that praying with faith matters (Mark 11:23–26; Matt. 21:21–22; James 1:5–8)—faith that rests not on a particular outcome, but in God himself as our good, powerful, all-knowing Father.
What We Can Expect
So what should we expect when we pray? Is healing dependent on our prayers or on the amount of faith embodied in our prayers?
Here we must hold a couple of things in tension. First, our prayers are effective. In James 5, it's clear that although we may not understand exactly what prayer accomplishes or how, it "has great power as it is working" (v. 16). God uses all our prayers for his purposes.
But second, God is not bound by our prayers, even the prayers of those we would consider most holy, righteous, or deserving. Paul prayed three times for the removal of his "thorn in the flesh," something most scholars take to be a physical ailment, and was told no (2 Cor. 12:7–9). Jesus prayed in the garden of Gethsemane for an alternative to the cross, if possible, and was told no. The biblical picture for prayer isn't a formula in which enough faith combined with fervency equals getting what we ask for.
What Submission Is and Isn't
Finally, we can be sure of what submission to God's will is and isn't. It isn't devoid of questions—consider when Mary asked Gabriel how she could have a son as a virgin (Luke 1:34) or when the psalmists repeatedly beg to know "how long" their suffering will continue.
It's also not absent of a desire for change in circumstances. Those "how long?" verses are essentially a way of saying, "When will this be over? I don't want it!" Paul desired and asked for his physical ailment to be taken away; Jesus desired and asked for another way to accomplish the atonement. Submission to God's will doesn't exclude questions, desire for relief, or even fear—but it is absent of demand and distrust.
How to Pray
Having built this biblical foundation, what can we conclude about how to pray to a sovereign God about chronic and terminal illnesses?
1. We can be confident that when we pray for healing, we're rightly acknowledging that sickness isn't part of how this world is supposed to be. Prayer is a right submission to God that falls in line with the overall story of redemption.
2. We're invited to unashamedly pray for healing when we're sick—even to the point of bothersomeness. From the examples of Paul and Jesus, we see that we can do this repeatedly and to the end, as Jesus prayed the very night before his crucifixion. We're invited to voice our desire for something other than what God has allowed in our lives, and this isn't opposed to submission to his will.
3. We're not commanded to pray unendingly for healing or promised it if we do. At some point, Paul ceased his prayers. We can be sure God will work in and through our sicknesses, whether he takes them away or not. We're simply assured of his invitation to pray, his work, his care, and his listening ear.
4. We can know prayer isn't a game in which we try to figure out how to pull the right levers or hit the right formula of faith plus correct requests in order to be faithful or get what we want. We can trust that if we're calling out to him, the God who works in all suffering will be with us and will use our pain.
Check Your Heart
So if you are facing terminal or chronic illness, what should you do? As with many things in discipleship, there's no "one size fits all." Faithfulness may look different in different stories.
Prayer isn't a formula in which enough faith combined with fervency equals getting what we ask for.
To one person, the Holy Spirit may be quietly nudging, Pray for endurance; my grace is sufficient for you. To another, he may be saying, Why aren't you praying for healing? Have you resigned yourself to this illness because you don't believe I can heal?
We should ask ourselves what motivates our prayers and why we pray as we do. If you're praying for healing, why? If you aren't, why not? When asking what God would have us do, we should exegete not only the Scriptures but also our own hearts. As we do, may we align our prayers to God's Word, standing sure-footed on what he has said and who he is.
Source: The Gospel Coalition