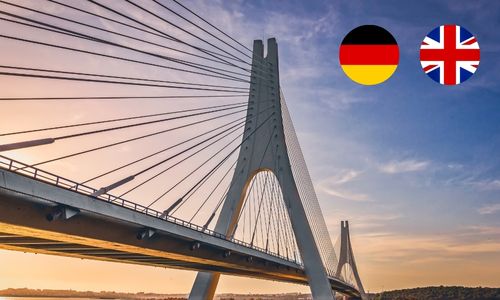 Over many centuries Jesus has built a strong spiritual connection, a spiritual bridge, between Germany and the UK. Churches and individual Christians have come together in prayer, worship, mission and evangelistic outreach, going back many hundreds of years. We believe that our two nations have a calling from God to serve Europe together.
In 2017, two leaders from Germany and the UK began to link up over Skype to share and pray together.  When the UK left the European Union and the future of the trading relationships was unclear, we felt it important that Christians in both countries work to strengthen the spiritual relationship. We wanted to make a deliberate effort to link up, pray for each other and work together – going in the opposite spirit to the spirit of division. Other people were then invited in from both nations and the team began to grow. 
In March 2019, close to the original Brexit date, there was an initial prayer gathering with leaders with a heart for prayer from both countries at London Heathrow airport for an afternoon. It was a special time and we sensed the Holy Spirit working strongly among us. As we held together the flags of our nations our attention was drawn to the red line running through them both signifying the blood of Christ.
We continued to meet as a core team, and began to plan for another in-person meeting in Germany, but as that was prevented because of the pandemic we began to hold open zooms (by invitation). At the end of 2020 we hosted our online worship bridge for 25 hours on New Years' Eve 2020/21 with German, UK and French worship leaders taking an hour each.  Around 13,000 people journeyed with the livestream over the 25 hours. Thousands Journey With 25 Hour Online Worship Bridge – World Prayer Centre
During 2021 and 2022 we have continued with our core team and open zooms (by invitation) at regular intervals and are now looking to when we can meet in person!
We believe this spiritual bridge is very important to God and would like to invite others to join us. We are looking for people who are already bridge-builders between our two nations, or who are keen to find out more. Please email Jane at prayer@worldprayer.org.uk to find out more.
Core team: 
Jane Holloway, World Prayer Centre, Birmingham UK www.worldprayer.org.uk
Bernd Oettinghaus, Leader, Round Table Prayer of the Lausanne Movement in Germany
www.deutschlandbetet.de; https://lausannerbewegung.de/
Wolfgang & Christiane Rathmann, Hebron Europe www.hebroneurope.org
Nick Pease, World Horizons & Hebron Europe www.worldhorizons.org www.hebroneurope.org
Paul Critchley, Presence Worship presence worship