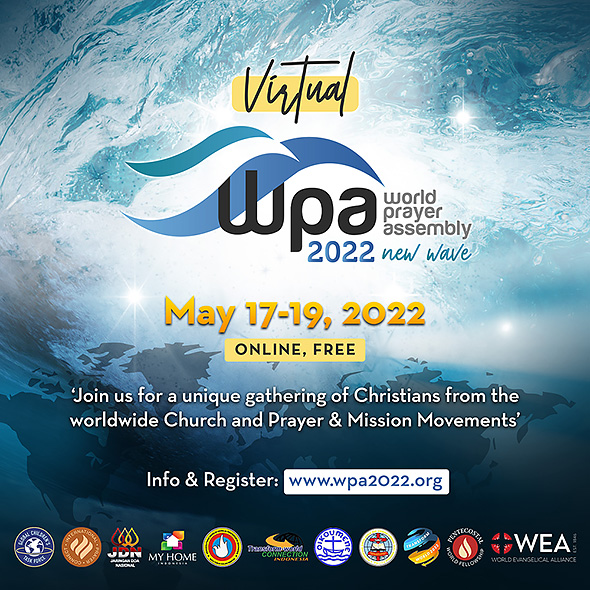 In 2012, 10,000 Christians from 90 nations gathered in Indonesia for the World Prayer Assembly, releasing a 'New Wave' of worldwide prayer and mission to see the prophecy of Habakkuk realised that, "The earth will be filled with the knowledge of the Glory of the Lord as the waters cover the sea."  World Prayer Centre was privileged to be involved in the organising and leadership of the event with a large number of delegates attending from the UK.  At one point during the assembly over two million were online praying and worshipping together.
On 17-19 May this year, another gathering is being held again in Indonesia, to worship, celebrate and give thanks for all that God has done around the world in the last decade and to once again call for united prayer across the nations, generations and denominations to see the Great Commission fulfilled.
Due to the restrictions imposed by the pandemic, this will be mainly an online gathering. Around 100 leaders will gather in the prayer tower in Sentul City just outside Jakarta and via zoom and social media, facilitate several regions of the world to help lead the assembly. Ian Cole, the founder of the World Prayer Centre, is helping to lead the session praying for Europe.
One of the emphases will be the working together of prayer and mission agencies to see gospel movements launched in 110 strategic unreached cities around the world.
Let us pray believing at this critical time, in so many places around the world, this wave of worldwide prayer and mission will continue to grow and strengthen, with millions coming to know Jesus as their Lord and Saviour.
Find out more about the World Prayer Assembly and the schedule at www.wpa22.org
Ian Cole is the founder of the World Prayer Centre and along with his wife, Pauline, they network globally in the movement for prayer.