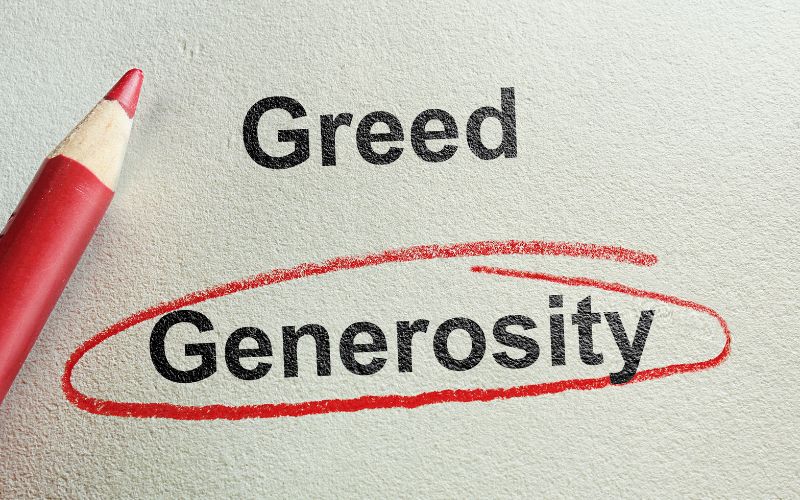 You may have read Ian Cole's first article in this trilogy of hope – 'No Hopelessness in the Kingdom of God'.  This second article in the trilogy is, Greed (coveting) to Generosity.
In my younger days, last century and all that, we used to hear about the seven deadly sins. Pride, greed, wrath, envy, lust, gluttony and sloth. Not only in our modern society do we not talk about deadly sins, but we no longer want to talk about or use the word sin.
This is all the more puzzling as we have all sinned. You may look at the seven and think none apply to me, which probably means that the first one does. In case you are wondering about sloth, it is simply laziness, complacency, not bothered, couldn't care less. What about coveting? It's about an overwhelming desire for possessions, especially other people's possessions.
In the book of Romans in the Bible it says in chapter 3:23 "For all have sinned and fall short of the glory of God." So, let's start there. We have all sinned and to be honest we don't need the Bible to tell us. We may not have all the deadly sins, but if we have one, we have sinned.
With all that is going on in our nation and the nations at this time with financial institutions, stock markets, pension funds, IMF, World Bank, all the mammon worshipers' etc. going into panic, it got us thinking about the sin of greed. In a world where we are told, "The rich get richer and the poor get poorer," what part does greed, the selfish desire for wealth, power and food, play?
So, let's get to the generosity bit. Can we try and imagine a world in which greed was replaced by generosity, big heartedness, kindness, liberality. Generosity of money, time, thoughts, influence, actions. Selfish transformed to selfless.
So where do we start?
As Christians we always want to start with God our Father. God so loved the world that He gave Christ Jesus His Son. Through His Son, by His Spirit, He gives us love, forgiveness, peace, mercy, grace, His life, eternal life. In fact, in 1 John: 3:1 in the bible, it says, "See what great love the Father has lavished on us, that we should be called children of God." WOW. Lavish, elaborate, costly, unstinting.
So, what about us? Let's start at the so called top. Can you imagine a world where every individual and company paid their proper tax, rather than pay accountants exorbitant sums to find every loophole to avoid paying tax, with governments willing to close those loopholes? Greed to generosity.
Can you imagine what would happen across our nations if in a spirit of hope and generosity, the Energy Companies supported by staff and shareholders, went to the Government and said, "Rather than a windfall tax, we are giving back to you a windfall gift, a percentage of our recent profits to help families across the nation with their energy costs." Greed to generosity.
What about employers being generous to the employees and employees being generous to their employers. We could go on. For all of us, could we be more generous in our giving, in time, actions, care for others, loving our neighbour, generous in our support, encouragement and speaking well of others. Stingy in our criticism, generous in our praise. Jesus said, "It is more blessed to give than receive." Greed to generosity.
We started with greed being a deadly sin. The good news of the Christian Gospel, is that at the cross, Christ Jesus took all our sins, all the deadly sins on Himself so that you and I can experience the truth that, "If we confess our sins, He is able to forgive our sins and cleans us from all unrighteousness. Even the seven deadly sins!
Pray:
Father God, we confess the sin of greed, however and wherever it is hidden in our hearts. We receive your total forgiveness and ask for a big hearted, generous love for You, which shows those we meet, how great and generous Your love is for them.
Amen.
There is no greed in the Kingdom of Heaven!
Ian Cole is the founder of the World Prayer Centre, Birmingham.