In Argentina between 2008 and 2019 the percentage of Evangelicals grew from 9% to 15.3%. This revival is most remarkable in the nation's prisons.

The evangelical advance in Argentina occurred, as in most Latin American countries, in all sectors of society, but especially "in the most vulnerable, including prison inmates," says researcher Verónica Giménez of the National Council for Scientific and Technical Research (CONICET). There are similar developments in Brazil, where the huge Universal Church of the Kingdom of God has 14.000 people working with prisoners.
As an example, 40% of the approximately 6,900 inmates in the province of Santa Fe live in evangelical wards, estimates Walter Gálvez, Undersecretary of Penitentiary Affairs, who is also a Pentecostal. The Puerta del Cielo ('Heaven's Door') and Redil de Cristo ('Christ's Sheepfold') congregations are among those that exert strong influence in Santa Fe's prisons. They began to evangelise inmates in the late 1980s and today have more than 120 pastors working inside prisons.
From hired killer to pastor
Rosario, a city with 1.3 million inhabitants, has high levels of poverty and crime. Violence between gangs seeking to control territory and drug markets has helped to fill its jails. Eighty percent of crimes in Rosario are carried out by young hitmen who provide services to the drug gangs, whose bosses are imprisoned and maintain control of the criminal business from the jails.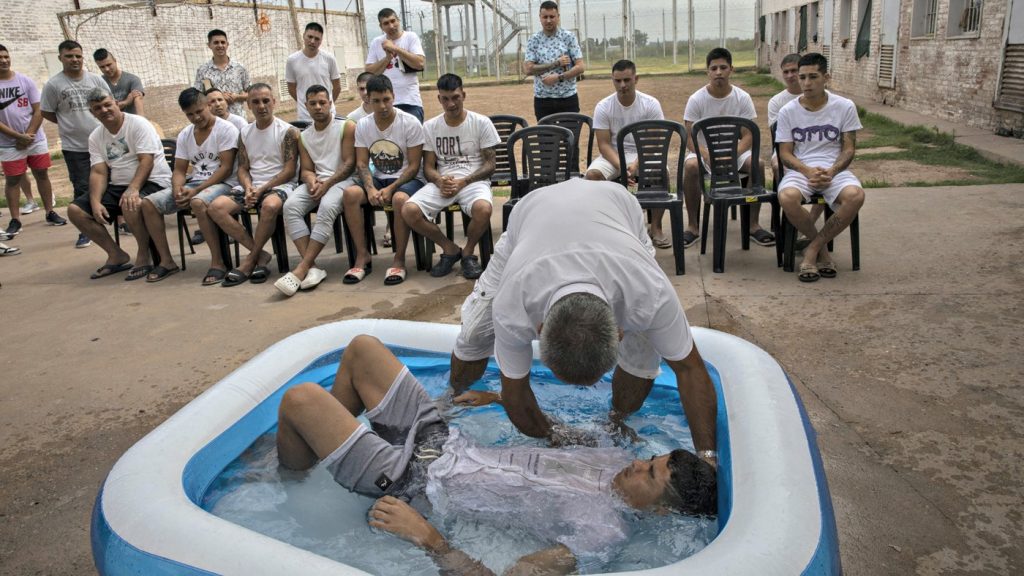 Jorge Anguilante from Piñero prison was sentenced to 12 years for murder. He has been allowed to head home every weekend to minister in a small evangelical church he started in a garage in Argentina's most violent city. As he leaves, the former criminal-turned-pastor greets the guards with a single word: "Blessings!" His violent life is behind him, the word of God made him "a new man."
His story, of a convicted murderer embracing an evangelical faith behind bars, is common in the dungeons of Argentina's Santa Fe province and its capital city, Rosario. Many began selling drugs as teenagers and were caught in a spiral of violence that sent some to their graves and others to overcrowded prisons divided between two forces: the evangelicals and the drug traffickers.
In a church service in prison pop-style hymns blared from loudspeakers while three TV cameras recorded the ceremony for other worshippers watching at home via a YouTube channel. "No one else is going to jail. Not your children, not your grandchildren," the pastor shouted to the crowd. "Change is possible!"
Inmate Ruben Luna, who is serving a 14-year sentence for murder, embraces Sebastian Monje, who has been in prison for eight months for attempted murder and robbery, before being baptised inside an evangelical cellblock at the penitentiary in Pinero.
Each evangelical unit at Pinero is run by 10 prisoners who have about 15 assistants for the 190 inmates. They're in charge of controlling everything and keeping the peace. "We don't use knives, but the Bible to take over a cellblock," says Pentecostal pastor Sergio Prada. Prisoners who want to be allowed in must comply with rules of conduct, including praying three times a day, giving up all addictions and fighting.
Oasis inside prison
For the past 20 years, Argentine prison authorities have encouraged, in one way or another, the creation of units effectively run by evangelical inmates, sometimes granting them some additional special privileges, such as more time in the open air. The wards are much like those in the rest of the prison: clean and painted in pastel colors, light blue or green. They have kitchens, televisions and audio equipment, here used for prayer services. But they are safer and quieter than the regular units. Violating rules that prohibit fighting, smoking, alcohol or drugs can get an inmate sent back to the regular prison.
"We brought peace to the prisons. There were never any disturbances inside the evangelical wards. And that's better for the authorities," said Rev. David Sensini of the Redil de Cristo church, one of Rosario's largest Pentecostal churches. Access is controlled by both prison officials and ward leaders who function as pastors and are wary of gang attempts to infiltrate.
Source: Evangélico Digital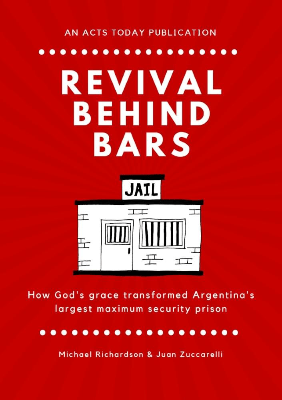 Revival behind bars
How God's grace transformed Los Olmos, Argentina's largest maximum security prison.

This inspiring e-book describes in detail how the revival in Los Olmos prison started, which changes it brought, how inmate leadership emerged and how the prison church was organised. Specific attention is given to the role of the prayer watches and how the revival influenced other prisons across Argentina. Detailed growth statistics are included. | order here