International Prayer Connect are honoured to be bringing you this invitation to join a devotional series over these next three weeks leading up to Easter entitled 'Exalting Jesus'.
May the God of our Lord Jesus Christ… give you the Spirit of wisdom and revelation, so that you may know him better. Ephesians 1:17
Do you want to know the Lord Jesus Christ better?
Do you want a closer walk with him?
Do you want to learn more about who Jesus is and the significance of his life, death, resurrection and ascension?
Life is a journey for everyone! For all who have trusted God's Son for life eternal and life in all its fullness, we not only follow Christ but also the destination of our journey takes us into more of Christ.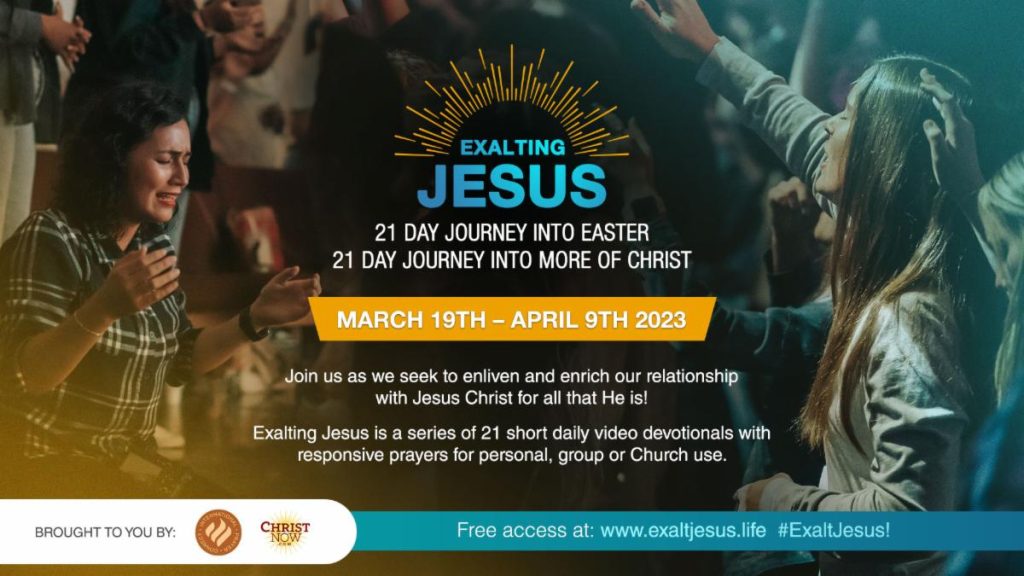 As one Christian described the process for himself: "I want to know Christ… Forgetting what is behind and straining toward what is ahead, I press on toward the goal to win the prize for which God has called me heavenward in Christ Jesus." (Philippians 3:10-14)
That's a good picture of a "Christ Awakening Journey" – the pursuit of more of Christ because the Holy Spirit awakens us to fresh dimensions of the supreme Jesus we had not seen before. As the Bible says to all believers: "Wake up sleeper, rise from the dead, and Christ will shine on you." (Ephesians 5:14)
Exalting Jesus is a free opportunity for you to explore and experience more of what this Christ Awakening journey can mean for you!
Through this series of 21 compelling and challenging teaching videos, reflections and prayers, we will take you on a journey of discovery and revelation that we trust will enliven and deepen your relationship with Jesus. Each day you will see a devotional video clip with responsive prayers to help you spend 15-25 minutes with the Lord Jesus Christ learning more and more about his spectacular supremacy.
With inspirational teaching, creative visuals, and clear applications, this devotional series explores major themes on what the supremacy of Christ means for us today!
You can take part in each session daily or at your own pace – individually or with a group. The sessions are being launched between 19th March and Easter Sunday – 9th April 2023, but you can schedule the 21 days to suit you, your cell group or church family.
SIGN UP FOR FREE at www.exaltjesus.life
Many graduates of this series end up so saturated with the glory and greatness and goodness of God's son like they'd never encountered him before!
Our prayer is that your life in him will be wonderfully and permanently transformed!
Dr Jason Hubbard – Director
International Prayer Connect