You're invited to a Quiver Prayer Movement Call
Join in Three Days of Fasting and Prayer
The only hope for Britain, now, is a spiritual awakening! We need a move of God by His Spirit, and through the Gospel of Jesus Christ, to bring conviction and repentance and restore righteousness and peace in the land.
Join in for three days of fasting and prayer, to cry out for God to have mercy on Britain. Unlike the heathen gods, our God is not deaf; He is the God who hears and answers prayer. Elijah prayed and God answered by fire! Elijah's prayer is also our heartcry as we fast and pray over the three days: "Hear us, O LORD, hear us, that this people may know that You are the LORD God!!" (1 Kings 18:37)
YOU MAY PRAY AND FAST WHEREVER YOU ARE, OR JOIN WITH OTHERS IN YOUR CHURCH TO PRAY.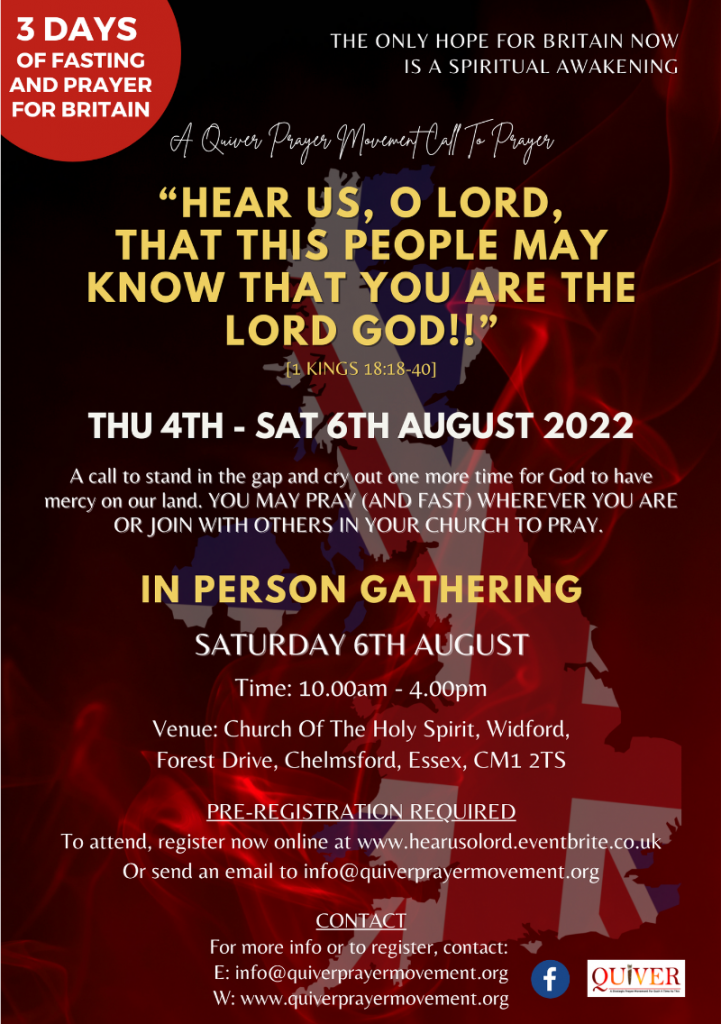 IN- PERSON GATHERING  You are also invited to the in-person gathering on the last day of the fast.  Date: Saturday 6th August 2022Time: 10.00am – 4.00pm Venue: Church Of The Holy Spirit, Widford, Forest Drive, Chelmsford, Essex, CM1 2TS  SIGN UP HERE:To attend, register now online at www.hearusolord.eventbrite.co.uk.